This article is AI free. It contains original content, and was researched and written by our own staff at the BMW Repair Guide. For more information on our AI Free Zone, please
click here.
Affiliate link disclosure – The BMW Repair Guide uses affiliate links in their site. For more information on affiliate links, please
click here.
Spark Plug Replacement – BMW N20 Turbo 4-Cylinder Engine
This repair procedure gives step by step instructions on installing new spark plugs in the BMW N20 turbocharged 4-cylinder engine. We recommend the spark plugs be replaced in the N20 engine every 60,000 miles to keep it running at peak performance. Please click on the button below to see all BMW models that this repair applies to.
Not sure which engine you have in your BMW? Use our
engine finder tool
to easily identify it!
Possible Symptoms: Rough idle, poor performance, engine stalls
This repair can be used on the following BMW models:
Step 1 - Purchase Parts
You will need the following parts and supplies to perform this repair.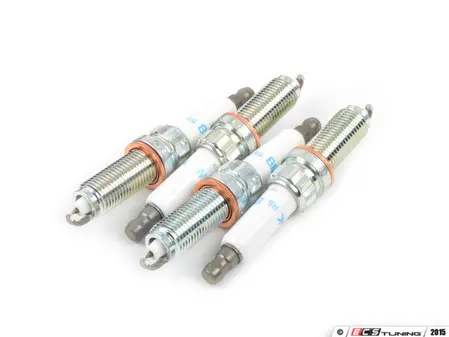 Spark Plug
Don't be fooled by aftermarket manufacturers that claim their plugs are "OEM". There is only one trusted source for factory spark plugs...Genuine BMW. These are the same factory plugs that would be installed at the dealership.
14mm Spark Plug Tool with Magnetic Swivel
Removing spark plugs with a rigid, none-magnetic socket wrench is not only tedious but can actually cause damage to your vehicle's engine. This socket wrench holds on firmly to the spark plug with its super strong magnetic tip. Its 360 degree of swivel makes it easy to remove spark plugs buried under parts or located close to the firewall in the rear of the engine. A necessity for every professional and home mechanic.
Spark Plug Installation Tool
Professional mechanics know that only a darn fool drops a spark plug into a cylinder head tube when installing a new one. Dropping a plug down its tube can cause the plug gap to be bent causing a rough idling engine. This rubber spark plug installation tool safely threads the new plug into the head. Using this tool is cheap insurance against damaged plugs, cross threading and potential engine damage.
Step 2 - Repair Procedure
Unless otherwise noted, all vehicle repair step images in this article are copyrighted, and used courtesy of BMW of North America, Inc. .
1. Removing and installing spark plugs.
Click to enlarge image
- The best tool for removing spark plugs from the N20 engine is a 3/8" ratchet with an extension and magnetic spark plug socket. This will help avoid breaking the spark plug off inside the tube.
Click to enlarge image
- Using a 14mm magnetic swivel spark plug socket, remove spark plug 12120039664 from the cylinder head.
View part diagram for this step
Avoid "dropping" the spark plug into the tube when reinstalling a fresh one. This can throw off the gap at the end of the plug causing your engine to run rough!
Click to enlarge image
- The best tool for installing a spark plug is a rubber spark plug installation tool. It helps avoid cross-threading the spark plug into the cylinder head and is much easier to use than a swivel head socket.
Click to enlarge image
- Install a new spark plug 12120039664. Torque the spark plug to 30 Nm (22 ft-lb).
View part diagram for this step
r-12-12Copyright BMW Repair Guide 2023 - All Rights Reserved