Repair Summary
This article gives detailed instructions on replacing the convertible top locking motor (locks the folding top to the windshield) in a BMW E64 6 series vehicle. Even though we used a 2005 645ci to perform this repair, this article can be applied to any 2004-2010 6 series vehicle with minor modifications to the repair steps.
A BMW E64 convertible lock motor replacement is a common repair in 2004-2010 6 series vehicles.
The E63/E64 6 series was first introduced to the US market in 2004 and has been hailed by enthusiasts as one of the most iconic designed BMWs to ever be produced. The E64 version of the 6 series sports a fully automatic electrohydraulic convertible top that tucks neatly into the trunk when fully retracted.
Unfortunately the the E64 6 series convertible top has been plagued with operational issues, most notably those contained in SIB 012417 that led to a class-action lawsuit settlement in November 2018 (
please click here to view document
). There have been numerous articles and forum discussions concerning the issues and remedies contained in SIB 012417 therefore we will not address them in this article.
One common problem that is not covered in the SIB but is well known among BMW E64 owners is a convertible lock motor failure that prevents the top from unlocking and separating from the windshield. The convertible top on the 6 series is secured to the windshield by two catch hooks which are retracted by an electric motor when the driver presses the top retraction button.
The BMW E64 convertible lock motor contains a plastic gear that turns two flexible drive shafts that retract or extend the catch hooks on either side of the windshield. Over time this plastic gear has a tendency to crack or strip, causing the lock motor to just spin without engaging the driveshafts when activated. If not replaced immediately it will eventually jam the electric motor, causing it to burn up. If you suspect the plastic gear in your convertible lock motor has broken DO NOT try and operate the top. You could cause permanent damage to an expensive motor that could be salvaged by just replacing the inexpensive gear.
There are some instances where the electric motor fails electrically. In this case, the entire motor will need to be replaced. The good news is a BMW E64 convertible lock motor replacement is a very easy repair for the home mechanic and will avoid an excruciatingly expensive trip to the dealership or local repair shop. We give you full step-by-step instructions as well as a parts list below for your convenience.
>
All BMW E46 and E64 convertibles
The original convertible latch gear in your BMW is made of plastic and is prone to breaking after extended use. Our replacement convertible top gear is made of high strength steel and will withstand years of opening and closing your convertible top. Fits all BMW E46 3 series and E64 6 series convertibles.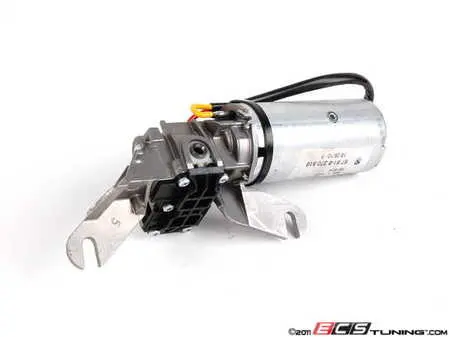 >
All BMW E36, E46 and E64 convertibles
This is the same factory convertible latch motor that would be installed at the BMW dealership. Fits all BMW E46 convertibles.
You must log in to view all of the repair steps!
In order to bring you the best possible content, we now require our readers to log in to their account to view the repair steps.